While some follow trends, others set them. Award-winning music producer and live performer Rodriguez Jr., also known as Olivier Mateu, has spent 20 years in the music industry. His vast knowledge of all genres of electronic music and decades of production experience have made him the visionary of melodic house and techno he is today.
Regular price

Sale price

$77.00 USD

Unit price

per
You will need Ableton Live Suite™ 11.3.4 or higher (Mac / PC) to use this product.
Features
LIVE 11 DELUXE Edition
Includes 2 Full Environments
Rodriguez Jr. Feathers & Bones Environment
Rodriguez Jr. Entropy Environment
Individual Drum Tracks
18 Drum Patterns
2 Drum Racks Featuring 32 Custom Drum & Percussion Samples
3 Percussion Loops
19 Instruments
160 Instrument Rack Presets
13 Custom Effects Racks
6 Custom Return Effects Racks
170 Effects Rack Presets
2 Custom Drum Rack Channel strips
2 Custom Master Channel Strips
1 EFX Sample
4 Custom Multi-Sampled Hardware Synth Instruments
1 Exclusive Rodriguez Jr. Element - The Chord Maker
15 Chord Maker Presets Containing 12 Chords Variations Per Preset (180 Total)
LIVE 11 STANDARD Edition
Rodriguez Jr. Feathers & Bones Environment
Individual Drum Tracks
5 Drum Patterns
1 Drum Racks Featuring 16 Custom Drum & Percussion Samples
2 Percussion Loops
11 Instruments
90 Instrument Rack Presets
10 Custom Effects Racks
6 Custom Return Effects Racks
90 Effects Rack Presets
1 Custom Drum Rack Channel Strip
1 Custom Master Channel Strip
1 EFX Sample
2 Custom Multi-Sampled Hardware Synth Instruments
Creative Journeys
"This Environment is such a cool starting point when I'm writing on the road. It gives me instant access to some of my favourite signature sounds from my studio."
Freedom To Create
"The speed and ease at which anyone can put finished sounding productions together using this Environment is a game changer."
Inspirational Sounds
"Everything you need to make an exciting track is at your fingertips, only using Ableton bundled instruments & effects. It's a totally inspiring experience."
Push 3 Total Control
Each of Rodriguez Jr.'s Environments and all Instrument & Effects Racks are now fully Push 3 compatible. You can simply drag any of these 36db Rodriguez Jr. devices to your Push 3 and all macros and performance controls will work seamlessly. This includes any Max for Live devices.
Our main objective when designing these Environments was to enhance the hands-on experience. We have meticulously mapped and programmed every instrument and effects rack for the ultimate user experience. Functionality and control are key in achieving efficient and creative results.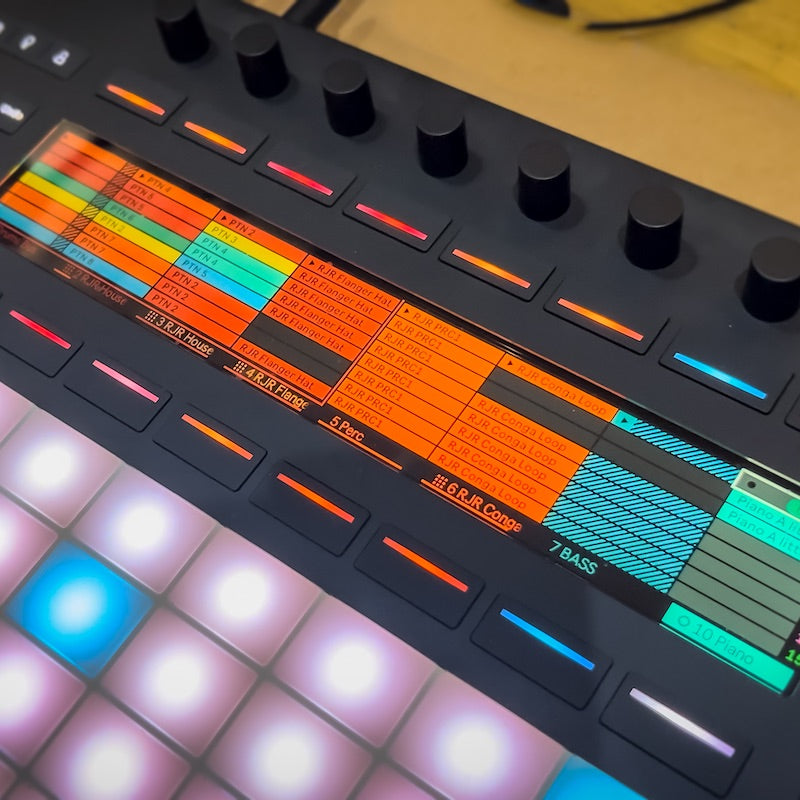 Rodriguez Jr. Chord Maker
(Live 11 Deluxe Edition Only)
Rodriguez Jr.'s music is renowned for his innovative use of nuanced chords and luscious melodies. We created the Rodriguez Jr. Chord Maker to bring you a collection of some of his favourite chords.
By playing just one note, the Chord Maker will generate a selection of beautiful chord variations. There are 15 presets, each containing 12 chords within that preset, giving you 180 chords just to start you off, with countless more variations for you to explore.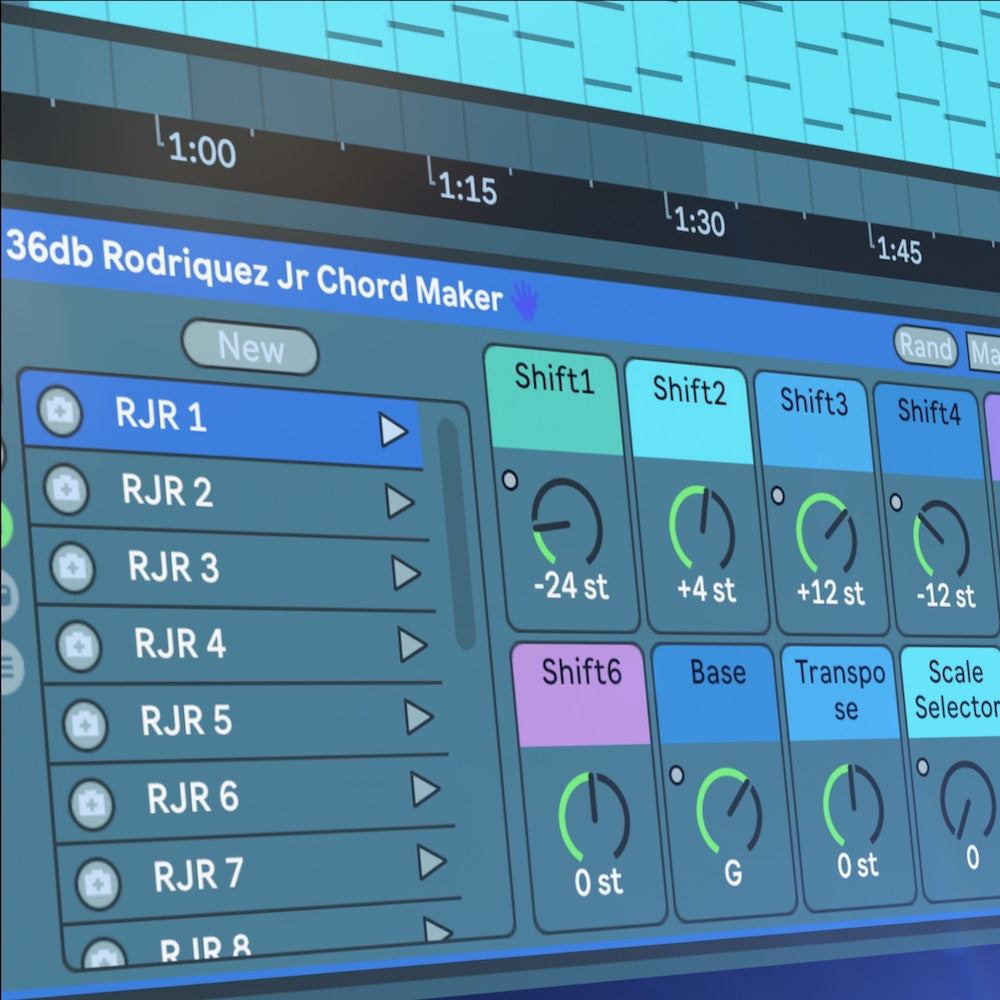 Feathers & Bones
A beautiful selection of exclusive instruments & effects from Rodriguez Jr.'s personal studio.
Immerse yourself in the world of electronic music with Rodriguez Jr.'s breathtaking selection of sounds, instruments and effects as featured on his groundbreaking new Feathers & Bones Album. Listen here...